Still refugees left in PNG
There are still around 70 asylum seekers left in PNG, more than ten years after they were first detained on Manus Island. The refugees were dumped in Port Moresby in 2019 after the closure of the Manus Island detention centre. They are not safe and have no secure future. Around 16 of them are too ill, some due to mental health problems, even to engage with refugee authorities about any possibility of resettlement in another country.
Australia abandoned them and declared them officially the responsibility of the PNG government in 2019. But under a secret deal in late 2021, the Morrison government agreed to provide continued funding for accommodation and services for the refugees. There are fears that services and accommodation will be cut off completely, with the money now apparently all gone. Concerns about corruption surround the money that was previously provided.
The refugees desperately need resettlement in a safe country. Some may eventually get to New Zealand under a separate deal with the government there, but their future remains uncertain. They continue to face the threat of attacks and robber in a dangerous situation while in PNG. The Australian government should accept responsibility and bring them here now.
There are also around 1200 refugees who were detained on Manus and Nauru now in Australia, after arriving for medical treatment including under the Medevac law. This is one third of the entire number originally sent offshore. They have been refused permanent resettlement, and told "Australia is not an option for you" even though some have been here as long as nine years, and have children in school and made lives here. They need permanent visas to allow them to stay here.
Why are asylum seekers sent to Manus and Nauru?
Manus Island and Nauru first became the locations for Australia's offshore immigration detention centres in 2001, when former Prime Minister John Howard launched the "Pacific Solution".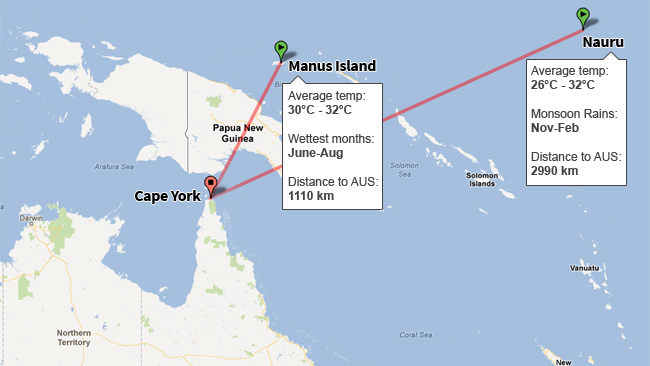 Labor reopened them in 2012 as part of a plan to prevent any asylum seeker arriving by boat from gaining resettlement in Australia. Liz Thompson, a former migration agent involved in refugee-assessment interviews on Manus, described the process on SBS's Dateline as a "farce", saying, "Manus Island is an experiment in the ultimate logic of deterrence, designed to frustrate the hell out of people and terrify them so that they go home."
Offshore detention is designed to be so brutal that asylum seekers are forced into despair and agree to go back home to whatever they have fled. Twelve refugees and asylum seekers have died there.
Dumping people in such remote locations also means denying them proper legal support, medical services and contact with the Australian public. Nauru is 3000 kilometres from the Australian mainland, while Manus Island lies 300 kilometres north of the main island of Papua New Guinea.
Where have they been resettled?
Refugees have spent more than ten years in limbo as a result of Australia's offshore detention policy. Efforts to resettle them in third countries have been appallingly slow and difficult, with most countries rejecting Australia's efforts to abuse human rights and keep out refugees.
In 2016 a resettlement deal was stuck where the US agreed to take 1250 of the refugees on Nauru and Manus Island. The first refugees were resettled in late 2017, after more than four years of detention. But six years after the deal was first announced some refugees approved under the deal are still waiting to go to the US. At 30 November 2022, 1075 had been resettled there with around 200 others approved to go.
Others have gone to Canada under a sponsorship scheme, which required supporters in Australia and Canada to fundraise around $18,000 per refugee to have them accepted.
In March 2022, a deal with finally agreed with New Zealand, which agreed to take 150 refugees over three years. But less than 40 refugees from Nauru will end up in New Zealand, with most already heading to the US or Canada. The bulk of the places in New Zealand will go to refugees from offshore detention now in Australia, who were transferred for medical care or under the Medevac law. Most of them do not want to go to New Zealand, having already lived in Australia for years. The process will also take three more years, when they have waited almost ten years already, and there are not enough places for all of them, with 505 to miss out.
The attempt to send refugees to Cambodia in 2015 was also farcical. Just seven were "resettled" there, at a cost of $55 million. Only three remain there as of May 2017, with the others regretting the decision to go to Cambodia and returning home in despair. Cambodia is one of the world's least developed countries and has no infrastructure for resettlement. It is also guilty of refoulement: in 2009, it deported two Uighur refugees seeking asylum back to China, the country they fled. The Philippines has also refused to accept refugees from Manus or Nauru. Kyrgyzstan was even floated as an option.
The asylum seekers and refugees must be brought to Australia, the country the whole world views as responsible for them. The offshore detention centres on Manus Island and Nauru must be closed.